Wednesday, March 25, 2009
Vegans Against PETA: First unintentional bid for world domination a success!
Holy crap! Vegans Against PETA made its first international debut yesterday, courtesy of my FAVO(U)RITE NEWSPAPER OF ALL TIME, The Guardian: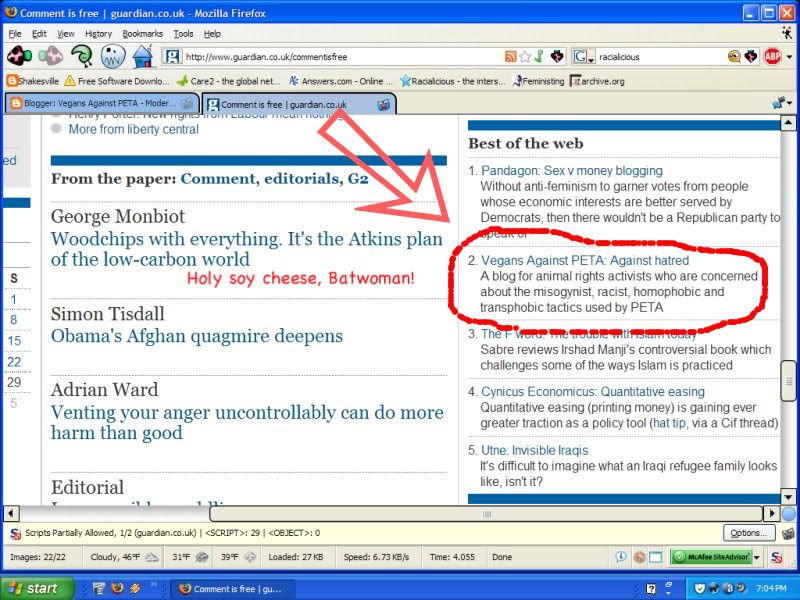 I have to admit, I have no idea where the Guardian found this blog, or for that matter how they ever noticed my description in the upper right hand corner, as Blogger continues to mock my best-laid schemes to change it to a readable color. What I do know is that I also got a fat promotion at work last week, so I reckon this is the universe's way of rewarding me for standing up for my fellow humans and animals by revealing the evils of PETA. You, too, can be a beneficiary of the universe's goodwill if only you click on this blog every day, link to it and tell all your friends and local news outlets about it! Why, just look at PETA basher lagusta -- the universe has blessed her with awesome shoes and tons of chocolate! And sparklyfanta has stopped procrastinating, and has been bestowed with impeccable taste by the universe as evidenced by her love of super-rad show Firefly! What's not to love?

In other fantastic news about this blog, one of my friends today informed me that she actually had PETA in her will, but after reading this blog they are OUT of it. Holy crap again! Maybe I need to add a subtitle to my blog title: "Vegans Against PETA: World Domination Express." Except, of course, I am against systems of hierarchy and domination, so said subtitle will happen when somebody starts giving a shit about animals because they saw some airbrushed supermodel in a bikini. In other words, never.
posted by The Venerable Vegan Empress @ 5:49 PM


About Me
Name: The Venerable Vegan Empress
Home:
About Me:
See my complete profile
If you have any ideas for an article here or would like to write a post, I'd love that! I work full time, volunteer and take classes at my city's university, so I don't work on this project nearly as often as I'd like. Just send me a comment with your contact info -- I approve all comments before posting, so if you include info that you don't want published let me know and I won't publish your comment.
Previous Post
Archives
Links
Subscribe to
Posts [Atom]
Powered by